Description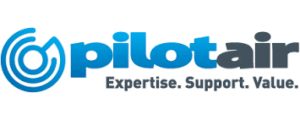 The Pilot PAC Industrial 5.5KW Rotary Screw Mounted air compressor is the perfect choice for workshop and industrial requirements. With Italian designed and manufactured air end, the lower air end speeds reduce wear and increase service life. Designed for continuous operation without a drop in performance.
Advanced electronic controllers
5.5kW/7.5hp 415v motor
Belt Drive
FAD 648lpm/22.9cfm
60-64 d(B)A
Features
ETMII – Installed on models from 4 to 15kW
Controller with multi-function backlight display, the menu is alphanumeric type. In the main screen are displayed:
Working pressure (offload/load)
Oil temperature
Total working hours
On-load working hours
Compressor status led (stand-by, offload, load)
Hours remaining before maintenance
Four maintenance timers (air cartridge, oil, oil filter, oil separator)
Automatic re-start after power failure
Cooling fan temperature settable
Compressor remote start settable
Integrated sequence phase relay
Easily accessible for service & maintenance
Remote monitoring (on demand)
GSM/GPRS/Ethernet/WiFi module (for online compressor status, remote assistance, connection with PC, Smartphone and Tablet, connection between neighbour compressors)
Master/slave function
It is possible to connect up to 4 compressors for managing distribution of the workload in such a way to equalize the hours dynamically changing set pressures of the various compressors
Italian Designed & Manufactured Air End
High efficiency and reliability
Lower air end speeds mean reduced wear and longer life
Designed for continuous operation without a drop in performance
Poly – V Belt Driven
Long life and minimum maintenance
Simple Maintenance
Easily accessible internal components ensure efficient maintenance
Cooling System
Thermally controlled independent radial fan ensures constant air/oil temperatures even during heavy working conditions
F.A.D. as per ISO1217 @ 7.5 – 9.5 Bar
Sound level measured in accordance with PNEUROP / CAGI Standards.
Technical data conforms to +/- 5%. Pilot Air reserves the right to modification without notice for design and technical improvements
Warranty: 2 years on compressor pump, 1 year on all other components.