Description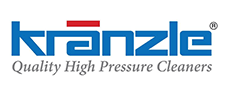 Kranzle WS599TS Pressure Washer
New Quick Release Plug-in system D12.
Stationary power in a compact format!  A streamlined wall-mounted high-pressure cleaner. Features auto stop/start control system controlled by a flow switch. Ideal for in-plant installations such as food processing areas, and vehicle washing bays. Features – 10m wire braided high pressure hose, Starlet trigger gun with safety catch with quick release system, Stainless steel lance with fan jet nozzle 035, Optional water intake filer, Optional Stainless-steel lance with Dirtkiller nozzle 035, 1400rpm Heavy duty 4-pole slow revving motor.
2 Year Commercial Warranty. 10 Year Brass Pump Head warranty.   Made in Germany.
Features
Operating Pressure: 2175psi / 150 bar
Water Output: 10L/min
15AMP Plug 240v
Max Inlet Water Temperature: 60ºC
Power Cable: 7.5m
Weight: 55kg
Dimensions: 670 x 430 x 510mm
Wall Mountable or floor standing
Stainless steel frame 
Total stop system
New Quick Release Plug-in system D12
STANDARD ACCESSORIES
Hp Hose 10m DN8 double wire braided
Trigger gun with safety catch & quick release 'Starlet'
Flat jet nozzle D25035 with stainless steel lance 1000mm
• Two year commercial warranty
• 10 year pump head warranty